Top Face Shields Manufacturers and Suppliers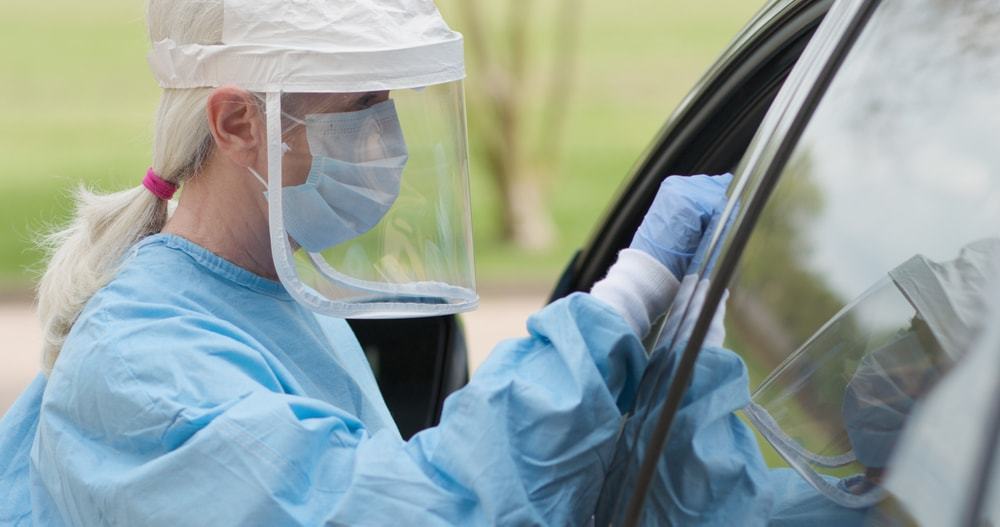 Image credit: JHDT Productions/Shutterstock.com
Face shields are personal protective equipment used to create a physical barrier between the user's face and/or eyes and potential dangers such as chemicals, debris, and infectious material. They provide partial to full face protection while still allowing the user to see via a clear material. They are implemented in the medical, military and paramilitary, construction, and manufacturing industries, i.e. for laser cutting, each with their own standards for strength and level of protection. Depending upon the need, there are many levels of shielding protection, from simple barrier technologies to arc, impact, and exposure protection.
What Makes a Face Shield a Medical Face Shield?
In the medical field, face shields are used in addition to other PPE such as face masks and goggles to provide a second layer of protection from blood, fluids, microbials, and/or chemicals. They are most often disposable but can also come in reusable forms to reduce cost and increase protection. Despite no true manufacturing standards, they are composed of at least three primary parts:
The visor- a see-through lenses/window typically made of polycarbonate, propionate, acetate, polyvinyl chloride, or PETG. They can also be treated with anti-glare, anti-static, anti-fog, and UV protection properties. They should curve around the face to provide peripheral protection, and the CDC recommends that the visor should be of sufficient width to reach at least the point of the ear and provide crown and chin protection.
The frame – a lightweight plastic headgear to hold the visor firmly in place. These can be adjustable or non-adjustable and can be detachable to allow for one frame to service many visors.
The suspension system- a method of holding the visor and frame on the head, typically with partial or full circumferential suspension. These are often headbands, where non-disposable models use Velcro, rachet mechanisms, or pin-lock mechanisms, while disposable models employ elastic straps.
Once used in a medical setting, disposable face shield visors must be taken out of service, as they are potentially infectious after interacting with a patient and/or laboratory. Medical face shields can be resistant to alkalis, acids, and micro-organisms, fog/vapor resistant, comfortable to wear for extended periods of time, and most importantly disposable/reusable. Many times, face shields can be found in combination with surgical masks, but these provide less protection than full-length shields, as they only protect the eyes from splashes/debris and do not cover the mouth and nose.
Top Face Shield Suppliers on Thomasnet.com
Table 1 below contains relevant information on the top suppliers of face shields on Thomasnet.com, ranked by estimated annual revenue. Additional details about each company are included, such as headquarters and type of company, as well as brief summaries of company activities below.
Table 1 - Top Face Shield Suppliers as Reported on Thomasnet.com
Information sourced from Thomasnet.com, owler.com, and company websites.

| | | | |
| --- | --- | --- | --- |
| Company | Headquarters | Type of Company | Annual est. revenue (2018) |
| | Santa Ana, CA | Distributor/Manufacturer | $41.8 billion |
| | Saint Paul, MN | Manufacturer | $32.8 billion |
| | Northfield, IL | Manufacturer/Distributor | $10.2 billion |
| | Torrington, CT | Manufacturer | $104 million |
| | West Chester, PA | Manufacturer | $46.6 million |
| | Swansea MA | Manufacturer | $32 million |
| | Islandia, NY | Custom Manufacturer | $15-20 million |
| | Kent, OH | Custom Manufacturer | $16.9 million |
| | North Richland Hills, TX | Manufacturer | $5-10 million |
| | Tipton, PA | Distributor | $4.4 million |
| | North Ridgeville, OH | Custom Manufacturer | — |
Company Summaries
Honeywell was ranked #77 in 2018 on the Fortune 500, making it one of, if not the largest manufacturer and distributor of aerospace, building, safety and productivity, and performance material and technologies in the USA. Honeywell Industrial Safety, based in Santa Ana, CA, is the branch that deals primarily with medical supplies such as face masks, face shields, and protection against chemical and microbial hazards. They offer both reusable face shields and disposable options, with replacement visors as well as durable alternatives for added protection against debris.
3M, also ranked on the Fortune 500 at #95 in 2018, is a leading producer of abrasives, tapes, and medical products, just to name a few of their sectors. They offer standalone disposable face shields as well as surgical mask plus face shield combined products and provide many options for pre- and post-operative dressings, tapes, scrubs, and other surgical supplies. Their headquarters resides in Saint Paul, MN.
Medline Industries, Inc. is a healthcare company headquartered in Northfield IL and is the largest privately-held distributor and manufacturer of healthcare supplies in the US. They sell full-length face shields as well as face masks with eye shields with various protective coatings. They also deliver products such as disinfectants, pharmaceuticals, laboratory equipment, sterile tools, apparel, and more.
Dymax Corp. specializes in light-curable materials and manufacturers masks, face shields, lamps, adhesives, coatings, and UV light protection. They are a unique addition to this list because they offer eye and face protection to prevent dangerous UV or visible light exposure, which come in spectacles, goggles, and face shield varieties. Their headquarters is based in Torrington CT.
Alpha Pro Tech, Ltd. is a US manufacturer based in West Chester, PA that specializes in personal protective equipment and garments for medical and architectural applications. They have an assortment of most medical protective apparel, including full-length face shields, mask plus eye shields, protective coverings, and more.
Sanax Protective Products, stationed in Swansea, MA, manufactures infection control apparel, barrier products, face masks, face shields, disposables, and dental equipment. They have full-length face shields as well as masks with eye shields, and also sell sterile plastic coatings for dental and medical equipment.
Printex Transparent Packaging is a custom manufacturer of printed plastic packaging and related plastic products for the food & beverage, health & beauty, pharmaceutical, wine & spirits, in-store marketing, and other industries. They have shifted their manufacturing capabilities to aid in the shortages of supplies due to the COVID-19 pandemic, and are now producing lightweight, disposable, adjustable, and recyclable PET face shields. So far, PTP has produced and shipped over 8 million face shields for their North American customers from their two manufacturing facilities in Montreal, Canada, and Long Island, NY, and they will continue to contribute to relief efforts.
Jos-Tech, Inc. custom fabricates vacuum and thermoformed plastics into many suitable products out of ABS, PVC, HDPE, polycarbonate, and more. They can produce custom face shields as their capabilities include products up to 5ft by 5ft, as well as bending and finishing procedures. They have their headquarters in Kent, OH.
Prestige Ameritech, based in North Richland Hills, TX, supplies face masks, shields, and protective face equipment in US-based manufacturing plants. They ship exclusively within the US and are capable of private label/contract manufacturing if desired.
New Pig is a manufacturing company in Tipton, PA which provides fluid management mats, kits, and containment equipment, as well as safety supplies and PPE. They are used in over 300,000 facilities worldwide and sell reusable face shields with window replacements, eye protection, respirators, and other protective headgear.
JBC Technologies, Inc. is a custom manufacturer offering capabilities in precision die-cutting, flexible materials converting, rapid prototyping, and value-added engineering. In September of 2020, the company launched its Tech-SHIELD line of face shields for sale, available in both adult and youth sizes. The new design features anti-fog, anti-static 7mil PET plastic, removable plastic film to protect the shields from scratching before use, a sturdy riveted construction, a more comfortable medical grade brow foam, and an attractive geometric design on the brow which adds to the overall aesthetic. The company manufactures its face shields at their location in North Ridgeville, Ohio.
Top U.S. COVID-19 Response Face Shield Suppliers on Thomas
Table 2 below contains information on companies that actively responded to the increased need for face shields due to the mass shortage of such supplies in the beginning of the pandemic. The companies found in the below table are ranked by annual sales and are further described in the following summaries.
Table 2 - Top U.S. COVID-19 Response Face Shield Suppliers on Thomas
Information sourced from Thomasnet.com, owler.com, and company websites.

| | | | |
| --- | --- | --- | --- |
| Company | Headquarters | Type of Company | Est. Annual Sales |
| | Indianapolis, IN | Custom Manufacturer | $50-99 Million |
| | Temecula, CA | Manufacturer | $35 Million |
| | Hatfield, PA | Custom Manufacturer | $25-49.9 million |
| | Brooklyn Heights, OH | Custom Manufacturer | $10-24.9 Million |
| | Zeeland, MI | Custom Manufacturer | $10-24.9 million |
| | Phoenix, AZ | Finishing Service Company | $10-24.9 Million |
| | Attleboro, MA | Service Company | $5-9.9 million |
Company Summaries
Marian Inc. of Indianapolis, IN, is a global manufacturer and supplier of flexible die-cut components for the automotive, electronic, and medical industries in North America, Asia, and Europe. They implement waterjet, die-cutting, laser cutting, and other precision technologies.
Paulson Manufacturing Corp. manufactures disposable face shields and goggles for medical use, along with other transparent face and eye protection for industrial workers. Besides medical face shields, Paulson provides headgear, sun shields, riot control gear, knee protection, and other safety equipment. They have their headquarters in Temecula, CA, and have tooling, injection molding, machining, and full line assembly capabilities.
Based in Hatfield, PA, The Rodon Group is a certified manufacturer of injection molded products out of ABS, nylon, LDPE, PVC, thermoplastic, HIPS, HDPE, and other materials. They employ automated machinery to provide precise results and have high-volume manufacturing capabilities at competitive prices. They are FDA approved and manufacture domestically.
Die-matic Corp. is a custom manufacturer specializing in stamping and die-cutting assemblies. They use both metal and nonmetal materials to prototype and produce products for many different industries. They are based out of Brooklyn Heights, OH.
Primera Plastics Inc. is a custom manufacturer in Zeeland, MI, that implements injection molding services for consumers and medical industries. They use acrylonitrile, acrylic, PPE, PE, butadiene, high impact polystyrene, and classic injection molding materials to service molding, finishing, assembly, and tooling procedures.
PF Technologies, headquartered in Phoenix, AZ, provides automated robotic applied coatings for various shielding applications. They can also die-cut, finish, and print products for assembly and keep their work to a high level of quality, reliability, and acceptability.
Empire Group specializes in industrial design, 3D printing, prototyping, graphic design, custom fabrication, CNC machining, thermoforming, mold and castings, and other full-service product development. They proudly serve many industries and provide both short-run products and prototypes for most needs.
Summary
Above, we have outlined the top face shield suppliers by annual revenue and sales. We hope this information has been helpful to you in your supplier search. To learn more about these, or similar, companies, such as suppliers of face masks, surgical masks, disposable masks, or disposable face shields, or to make your own custom list of suppliers, feel free to visit Thomas Supplier Discovery, as we have over 400 face shield suppliers and more than 40 disposable face shield suppliers to choose from.
Sources:
Other Medical Articles
Other Top Suppliers Articles